MONMOUTH — Tamara Lynn Happe, 59, of Monmouth was arrested June 24 for menacing and first-degree bias crime.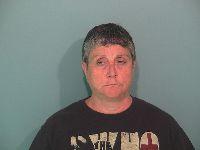 At 1:42 p.m., on June 22, Monmouth Police officers responded to a report of a disturbance involving an armed person at Jack's Pub, 423 Main St. E.
The caller said a person brandished a knife after an argument about social distancing, according to a Monmouth Police Department news release.
Officers interviewed the victim, suspect and witnesses at the scene.
The victim stated the suspect called him a racial slur multiple times and pulled a knife from her pocket. A Swiss Army knife was taken as evidence.
Officers were unable to obtain video footage from Jack's Pub at the time of the call or during follow-up contacts with the employees.
MPD hopes to receive relevant footage from the owner or manager as soon as possible.
Happe was lodged at Polk County Jail without incident. The investigation is ongoing.