Itemizer-Observer
MONMOUTH/INDEPENDENCE — Community leaders got together Sunday to give a message about staying apart.
"We as a group wanted to really push the importance of social distancing," said Independence Mayor John McArdle. "Hence the video that we filmed yesterday. It's to demonstrate that we each have responsibility, and how important social distancing is."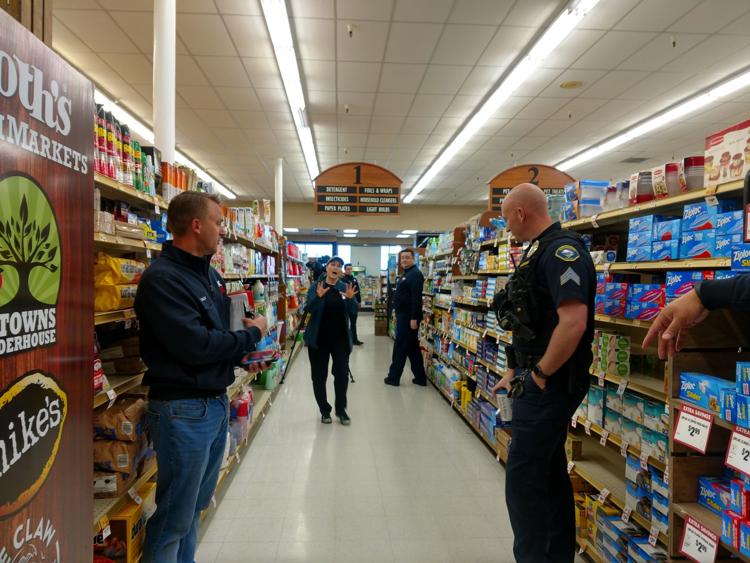 Central School District superintendent Jennifer Kubsita; Rex Fuller; president of Western Oregon University; Chief Ben Stange, of Polk Fire District No. 1; Monmouth Mayor Cec Koontz and McArdle, have been regularly collaborating on serving the community, McArdle said.
"We exchange information, share ideas, figure the best ways forward," he said. "We all recognize that we must all work together."
He said they each have different challenges, resources, skills, and knowledge that if used collectively can do a better job for residents.
They met at Roth's Fresh Markets in Independence on Sunday morning to film a public service announcement to show people what social distancing looks like and why it is important.
"It is critical that we slow the spread," McArdle said. "It's about protecting vulnerable people in the community. This includes very small kids with compromised immune systems, seniors, and cancer patients with limited immune systems. We have to limit exposure to our firefighters, police and health care workers so they can keep doing their jobs, to name but a few of the essential folks in the community."
Koontz agreed with McArdle's statements, and said they are continuing to work on ways to get the message out.
"We are in constant communication with each other and will be developing more regular ways of reaching out to the community to get this message across," she said. "Each and every person, young and old, has a responsibility to their neighbor, their friends, their friends' families, to keep their distance. This is serious."
Stange agreed with the mayors.
"I'd just add that this group is incredibly focused and driven," Stange said. "On Thursday the question was posed, 'Is there something we can do locally to underscore the need for social distancing?' Within 72 hours we had a PSA complete. I think it's a great demonstration of the collaboration and focus of our organizations."
Koontz said to be a good neighbor and stay home.
"This is a defining moment for our community," Koontz said. "I urge everyone to do their part. Each of our individual actions makes a difference."