POLK COUNTY — Cherriots is planning a new route to serve Dallas, Independence and Monmouth, which is scheduled to start May 4.
Ted Stonecliffe, transit planner from Cherriots, spoke on the topic at the Feb. 25 Independence City Council meeting.
"About a year ago, in February of last year, we saw the service was running behind schedule, especially during the peak times when a lot of people were riding, and it was sitting idle for many times during the day on off-peak periods," Stonecliffe said.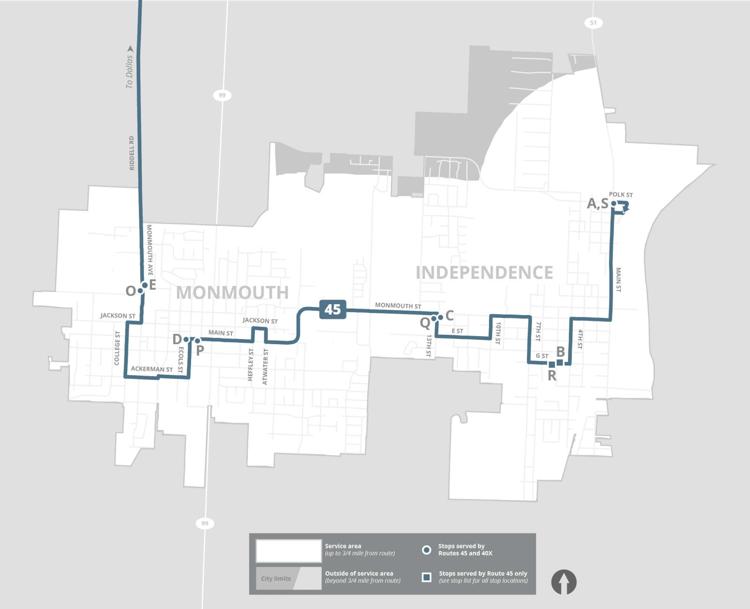 To help remedy that situation, they limited the number of locations that the bus serves in each community to one or two per town, he said.
That kept the bus on time, but also meant not as many people were able to use the service, he said.
"We're wanting to change that with the redesign," Stonecliffe said.
Last June, Cherriots conducted outreach, surveying people at events in all three cities and through an online survey.
 "In general the survey was asking people's general knowledge of the service, how they were using the service if they were a current rider, and if they were calling into our call center if they were getting denied their first choice of reservation," Stonecliffe said. "Also, we wanted to know if just calling in was a barrier to using the service."
He said 47 percent of respondents didn't know Cherriots is a public transit service.
"They thought it was closed for seniors and people with disabilities," Stonecliffe said. "Certainly that's what it is serving primarily today, but it is open to the public."
Current riders use the transit service to get to and from work, shopping, school and medical appointments, he said.
One of the things Cherriots asked on the survey was, is having to call 24 hours in advance was an obstacle for riders.
"Thirty percent said they're getting denied their first choice when they call," Stonecliffe said. "Half of those had to cancel their trip altogether, which is a big problem. It really means that the system is broken and that we need to make a change."
He said 65 percent of respondents preferred to not have to call 24 hours in advance.
"People, when they think of public transit, they think of going out to a bus stop at a scheduled time and getting on the bus, not having to think about it 24 hours in advance," Stonecliffe said. "That was loud and clear. There is a clear desire for better access to transit, more stops and frequency for transit in and between the communities, and that's why we're redesigning to what we're calling a deviated fixed route."
There will be a fixed path, but the bus will be able to go off that route if someone contacts the call center 24 hours in advance of needing the service.
"Those deviations will be limited, just like they are today, to one or two per town," Stonecliffe said.
On the new route, the bus would make five round trips from 7 a.m. to 5 p.m.
"It starts in Independence and goes through Monmouth to Dallas, and then makes that return every two hours because it's just one vehicle," he said.
Stonecliffe said after the survey, they reached out to staff at each of the three cities.
"They were all involved in determining the final route path and stop locations – altogether we have 36 new stops and 13 of those are in Independence," he said. "We believe this is a change for the better. It's going to be a change that the community wants and will be more useful to them."
Stonecliffe said that notices have been going out to property owners and tenants who will be affected by the new stops, which mean a reduction in street parking in certain areas.
"The bus needs to come up to the curb in order to serve wheelchairs or mobility devices in accordance with the Americans with Disabilities Act," he said. "We've been working with public works and police to determine the path and those stop locations."
Mayor John McArdle asked how the program was funded.
"The statewide transportation improvement fund, or STIF program, that was started in 2017, the funding started flowing last year,"Stonecliffe said. "That's an ongoing source that we'll be tapping into, but it is a payroll tax, so if the economy is up, then it's going to be coming up, and if the economy is down, it has a tendency to drop off, so there would be reserves that we would be allowed to collect in those good years as a rainy day fund for the not-so-good years."
One stop on the proposed Dallas route, at the corner of Jasper Street and Denton Avenue, may be changed after residents of the neighborhood voiced concerns about the safety of that intersection.
Residents of the area testified about their concerns at the Dallas City Council meeting on March 2 and presented the council with signatures of people who are opposed to the stop location.
"It's not that we are opposed to public transit, it's just that that's a really, really bad location," said a woman who lives right on the corner of the two streets.
She said traffic on Denton has increased as drivers are treating it as an alternate route to Ellendale. She suggested to move it to the south closer to the Dallas Retirement Village.
Ken Mayer said he's lived on Denton Avenue for 25 years.
"I've watched everything grow up around us. I'm retired. I'm home pretty much everyday. I take my grandkid to school everyday," Mayer said. "I see the traffic going up and down Denton everyday."
He said the street has 18-wheelers, buses and a lot of bicycle and pedestrian traffic, and the bus stop would make it even more congested.
"I think there should be another solution to move it even further down Ellendale and have it down that way, but keep it off the residential streets," Mayer said.
Stonecliffe also made a presentation to the Dallas City Council and said Cherriots would be willing to looking at different locations for that stop. He said the stop was proposed at Denton to shorten the walking distance from North Dallas homes to a bus stop.
Councilor Ken Woods suggested the stop be moved to Fairhaven and Jasper, a few blocks north of the proposed stop. He said that would move it away from the busy intersection and closer to more houses.
"This was the routing that we worked with the city planning and engineering staff to develop," Stonecliffe said. "That wasn't mentioned in our discussions, but we could consider that."