WEST SALEM — Josh Navarette enjoys the art of pushing hot steel, pounding it on his anvil while it's still glowing, right out of the forge, eventually crafting a knife.
The blacksmith wants to share that joy with others, be it working with veterans and first responders from his new shop in West Salem, NK Forge and Metalworks, LLC, or with disadvantaged youth at a Marion County metal shop.
"The forge, I want it to be like a barber shop," Navarette said. "You can come in, BS around, even if don't do anything with the forge. Make it somewhere you can talk about blades, anything really. Knives are just the ice breaker."
Navarette, a case coordinator for Marion County with a background in supportive employment, has been helping people with disabilities and disadvantages to find jobs since 1999. He gained notoriety when he won the reality competition show "Forged in Fire" in 2019. However, Navarette had been involved in the creative arts for more than 20 years as a "wood turner."
About a decade ago, he was inspired to transition from crafting wood products from a lathe to making knives after chatting with a knife smith at a store in Portland. Navarette went home, looked online, bought some books and got hooked. He started with stock removal, where a knife is cut from a piece of already flat steel.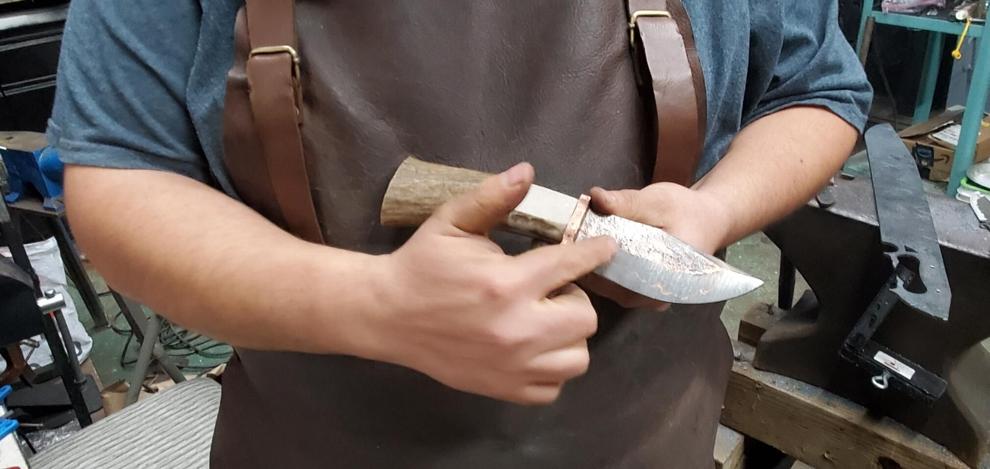 "My first knife, oh my God, was ugly, but it was special," Navarette recalled. "It told me I should make the switch. I can do this."
While building his side gig in knife making, Navarette continued working with those in need, including veterans. The idea came to him to offer knife making as an outlet, a simple treatment for their PTSD. Thus, Artistic and Creative Therapy (ACT) was born, a free, one-day class where he guides them to crafting their own knife. Navarette said for many vets, there was really nowhere to go, to blow off steam and unplug.
"They can go to meetings and chat. But I've seen through experience, it helps to make things. I offer a place they can feel they're not being judged. All we're about is heating hot steel. They can completely unplug from everything else, focus and in the end, have something to show for it. The immediate gratification is great."
He added for the longest time knife makers had the reputation like sand people in caves, pursing just a hobby from the corner in their garage dungeon.
"All of a sudden, the show came up and, boom!" Navarette said about the explosion in popularity for black smithing.
In 2019, while at a knife show selling his wares in Atlanta, the producers of the History Channel show "Forged in Fire" approached Navarette. They asked if he wanted to compete.
"It was in its sixth season, but I'd only seen it maybe once. Sure, what's the worst that can happen?" Navarette recalled telling the producers.
Still a novice at forging blades, Navarette knew he needed to up his game, so he signed up for a class in Monroe, from Peter Newman owner of Farrier Supplies store.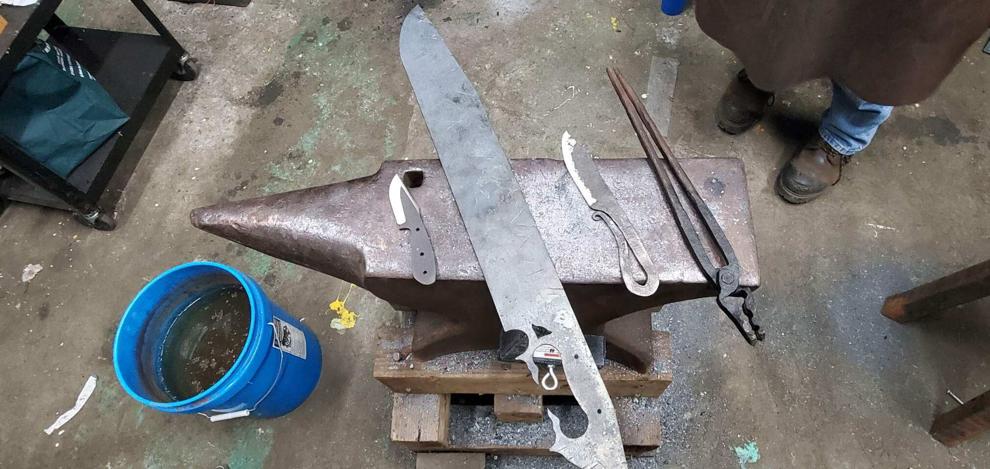 "Forged in Fire" pits four blacksmiths against one another in three rounds of competition, putting their skills to the ultimate test with grueling twists. For Navarette's group, the first round of crafting a knife was taken outdoors utilizing hand-powered coal forges, during the bitter cold of winter. Navarette knew going in he was the underdog with the least experience. But he also knew, he had the least to lose.
"So, I decided I'm going to be a wedding crasher," he said. "I'll dance, have a cocktail, dance with the bride. If I get kicked out, oh well, I wasn't supposed to be there in the first place."
But a funny thing kept happening: He outperformed his competition. Each round, one contender is eliminated until two remain. The finalists are sent home to recreate a weapon from history, often a blade the blacksmiths had never seen, let alone heard of before. For Navarette, it was the Ram-Dao, a traditional, sacrificial sword used in the Hindu ritual sacrifice of animals. He'd never made anything that big in his shop.
Navarette said 20% to 30% of time in shops like his is spent fixing things, fixing mistakes and crafting your own tools. That's the approach he took making Ram-dao.
"Mentally, I had to figure out how to make a tool. I'm very big on detail. I knew that Adam (his finalist competitor) would come out with something good. I could be on par with performance. But not on details. I had to exceed," Navarette said.
In the end, Navarette's Ram-dao performed well, while Adam was disqualified for missing a key detail in the sword's construction.
It wasn't exactly how he wanted to win.
"(Judge) David Baker, after the show, I told him I feel shorthanded, I didn't want to win this way. He said, 'Look, I make weapons for living. Yours is one of best I've ever seen. I have no doubt you would have won.' It made me feel better," Navarette said.
The prize was $10,000. Navarette said 40% went right away to taxes. The rest went to the bank to save up for opening up a new shop.
After the show's success, he decided to commit full time to knife making. The problem was a dearth of industrial spaces in West Salem to house the ideal home for a one-man forging operation. Then, just as he was ramping up his search, the coronavirus pandemic hit last year, and the project had to be put on hold.
When COVID-safety restrictions began to lift this year, Navarette finally found a shop in the deep, dark listing of Craig's List, he admits it was rather sketchy sounding at first. But the space proved to be just what he was looking for.
"This place is like a newborn baby — it's ugly, but it's precious," he said. "I moved in about three months ago."
With a space to create knives for his burgeoning business Navarette Knives and a home for his ACT classes, he's already got plans in motion for his next venture. Navarette is just waiting to hear back from Marion County's background check to start up a program to work with disadvantaged youth at the county's metal shop. It's one of three programs within its juvenile department, including Fresh Start Restaurant and Focused Utilization Employment and Labor (FUEL). He plans to model his youth program after his ACT classes.
"I'd be there one or two days a week, teaching juveniles how to make things, see if they can do some black smithing. They already have a CNC plasma cutter, all the machines. They just don't have something cool, like a forge," he said. "I think we can definitely implement a blacksmith flavor to it.
"We could be making spoons. I don't care. The social aspect of this is definitely what drives me. And if I'm able to help somebody forget about their issues or problems for a little while, cool, let's do it," Navarette said. "It's not a silver bullet. Just like with vets, if I can make their lives easier, give them an outlet once in a while, unplug, then I'll keep going. If it doesn't work here, I'll just sell everything and go back to making knives from my home and keep serving."