CRESCENT VALLEY — Participating in a one-day event because of winter weather, the Central High School girls and boys swim team and the Dallas High School boys swim team competed in the 5A Mid-Willamette Valley district swim meet, hosted by Crescent Valley.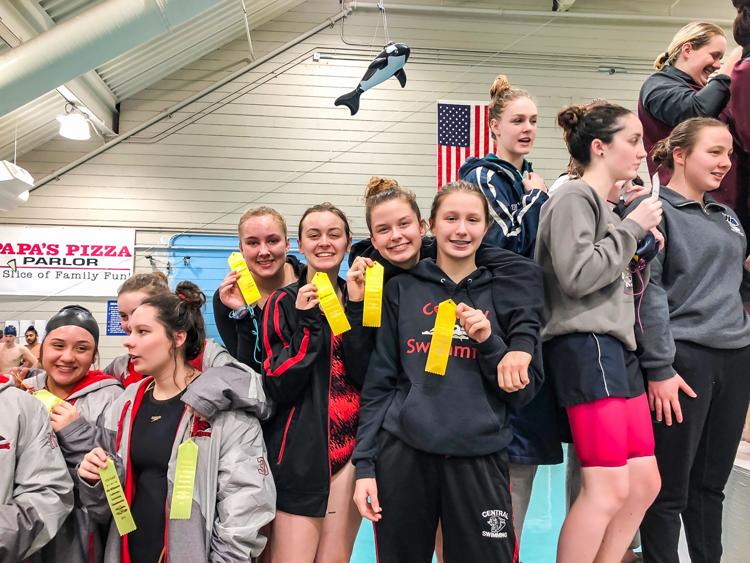 The Panthers boys team nabbed eighth place, 92.50 points, with no qualified swimmers for the state meet. The girls squad took seventh place with 132 points. Qualifying for state are Madeline Altenburg, Olivia Cooper, Grace Holstad and Lynze Bradley for the 200-yard medley relay, and Holstad in her individual 50-freestyle stroke and 100-butterfly stroke events.
The Dragons finished in seventh place, raking in 116 points. No Dallas swimmers are headed to the state meet.
Central results:
Junior Grace Holstad has had a rough swim season, from battling a recurring shoulder injury to dealing with multiple illnesses, all of which have kept her out of the water for extended lengths of time.
But those obstacles haven't kept her from reaching her goal of going to the state swim meet, hosted at the Tualatin Hills Aquatic Center in Beaverton Friday and Saturday, despite personal doubt about her performance at the district meet.
"My fly didn't go how I expected it to be," Holstad said, "It's hard, because I was out so long, and that's what my coach said, I missed a lot of practice, so I can't be down on myself about it, which, I agree, but it's just hard because I expected to do a lot better. So that was hard to accept, but, we'll see if that gets me into state."
She swam the 100 butterfly in 1:03.65, finishing in second place.
Holstad said her other events went OK.
She swam the 50 freestyle in fifth place, at 26.94 seconds. In the 400 relay, the team, consisting of Altenburg, Bradley and Cooper, came in seventh place at 4:46.59.
"My freestyle went pretty well, I got pretty close to my personal record, so that was fine," she said. "Our last relay didn't go exactly how we wanted it to go, but I'm still proud of us. It was a long, hard day — really, really long hard day — so I'm proud of us."
On the boys side, junior David Glade, a state meet hopeful, didn't make the cut, but said he was proud of his performance overall.
"I'm probably not going to be in state, but it's OK, I had a good time," he said.
Glade swam in the 500-yard freestyle stroke, finishing in 5:45.03 in ninth place, the 200 freestyle relay in eighth place at 1:49.30 with Jaedon Kerr, Kyler Kasnick, and Sean Stephenson, the 100 breast stroke in seventh place at 1:12.03,, and the 400 freestyle medley relay, coming in at 4:05.29 with Stephenson, Kasnick and Trent Nash, in seventh place.
"It went pretty good," he said of his events. "It was really slow at the beginning, other than cheering on my teammates, because all my events were almost back-to-back at the very end. So four hours of prep, pretty good. Pretty good day though, I gotta admit."
Dallas results:
The Dragons may not have placed high enough at the district meet to go to state, but they walked away proud of their effort.
"I thought the season went very well," said head coach Mark Maxwell. "The boys worked very hard all season and supported each other very well. They developed as a team after coming together from different backgrounds. I think the district meet went well for the team with some having never been in a situation and pressure like that. Hopefully we will see more kids and more community school support and backing as we move forward."
Senior Isaiah Compton finished out his last high school swim season by placing 12th in the 100-yard freestyle stroke, at 57.89, and ninth at 25.51 in the 50 freestyle.
He said he was excited of his overall performance at districts.
"I expected to at least make the same times as usual, but I've actually PR'd by quite a bit," Compton said. "I got back to my freshman year time with 57 seconds in my 100 freestyle, and I'm so happy about that. And then my 50 freestyle is 25 seconds, so I'm really happy about that. It's a lot of just mental stuff I've been working on, but still, I'm just really happy that I improved a lot more. It feels really great, I'll be honest."
For first-time senior Braden Welin, who got into the sport because of fellow swimmer Gabe Applegate, said he was happy about his overall season performance.
"It went good, it was nice to finish out the year strong," Welin said. "We PR'd really well in our medley race ... and it was nice just to see everybody happy about that."
Welin swam the 200 freestyle in 3:18.72, and the 100 freestyle in 1:26.36. For the 200 medley relay, he joined Aidan Condon, Jakob Lloyd and Isaiah Dressel for a ninth-place finish at 2:27.49.