INDEPENDENCE — As seniors prepare to walk across the stage this weekend in their caps and gowns to receive their long-awaited high school diplomas, many of them do so welcoming a new adventure on the other side.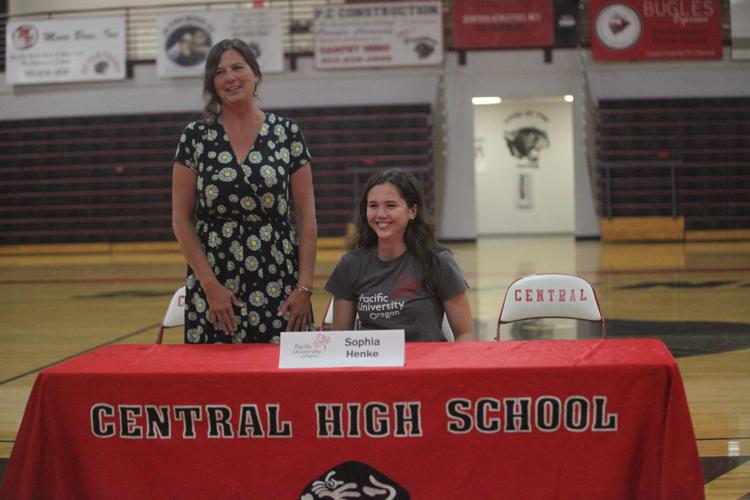 Central High School seniors Sophia Henke, Kaleb Kantola, Connor Laeng, Ruben Cedillo, Emiliano Alarcon, Annika Riddell, Elizabeth Chavez, Moses Mierau and Hunter Chase signed their athletic National Letters of Intent to their decided colleges on May 14 in the Panther Pit.
As each individual signed their letters, their head coaches came up and gave a small speech on their athlete's accomplishments over the years.
Henke will be studying physical therapy at Pacific University in Forest Grove, where she will also be competing for the track and field team – something she wasn't quite planning on.
"I chose Pacific for academics, and I ended up with a lot of academic scholarships, and so it worked out really well to get to go there, and I think it's an awesome school," Henke said. "The (track) coach reached out to me and was like, 'do you want to do track for us', and I was like 'yes, of course!' So I'm just really excited about that."
The former 5A state champion in the high jump for 2018 and the second-place winner for 2019 said she is looking forward to experiencing competition at a higher level.
"I think that when it comes to districts and state competition for track, it gets really intense, but that's my favorite, and … so I'm excited to continue with that, and work with people who are really passionate about it."
Riddell is going to pursue basketball at Southern Oregon University.
"I went and visited, and I really loved it there," she said. "The coaches were awesome, and the girls were really awesome and they all get along really well, and they play really well together, and they have a really good program, so it just kind of just lined up, like, this is where I should go."
Riddell was involved in a car accident last summer, which put this year into question of whether or not she would be able to continue with sports.
"I think it's everybody's dream to, like, when you're playing high school basketball, to be able to continue, and it's really awesome that I have the opportunity to be able to continue. With my accident this summer, I wasn't even sure if I would be able to play sports, and then I was fortunate enough to play and then get noticed."
She said she is planning on studying human services, and wants to become a case worker.
Kantola, who recently helped his team make history by capturing the 5A state championship title in baseball, will be attending Chemeketa Community College where he will also pursue baseball.
He chose CCC because "It's cheap to go there, and it's a good start for two years, and then possibly transfer to a Division 1. Good starting place."
He said he's looking forward to playing collegiate baseball.
"Just fun to play at the next level, the competition gets better. It will be cool to see what happens."
Cedillo and Alarcon will both be attending Linn-Benton Community College to play baseball, and Connor Laeng will be playing baseball at Umpqua Community College.
Chavez is staying local, also going to LBCC, where she will play basketball.
Mierau is planning to play football for Linfield College, and Hunter Chase is attending College of the Siskiyous, also to play football.