Seattle — At one point in time, David Ribich dreamed of becoming a professional runner.
Check.
Now, the former mid-distance runner for Western Oregon University is dreaming of making it to the Olympics. He's already met the marks needed to qualify for the trials, doing that in the first weeks of his new career.
"In June 2018 … I ran 3:37 in the 1,500-meter race, which pretty much matched my personal record for my senior year in college, and that time automatically qualified me for the Olympic trials in June (2020)," Ribich said. "Already having the trials qualifying mark takes that pressure off of, 'I don't need to hit that,' but now it's just chasing after the Olympic A standard, which is 3:35.00."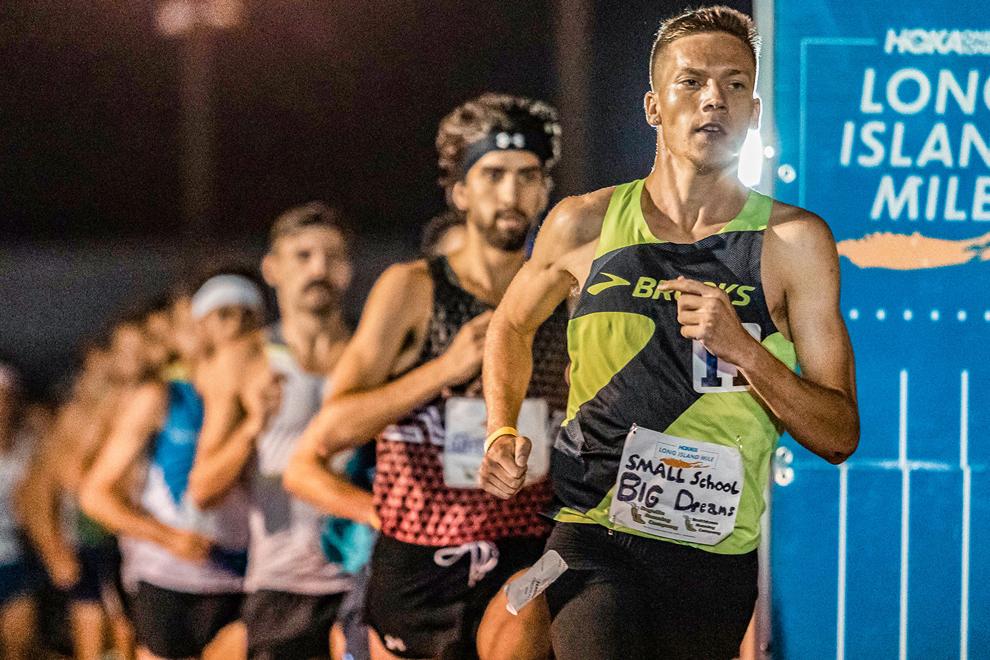 After a senior year at Western Oregon University marked by setting three National Collegiate Athletic Association Division II records and claiming two NCAA DII national titles, Ribich, in June 2018, signed a contract with Brooks, a professional running company based out of Seattle, Wa.
Qualifying for the trials, which will be held at the newly renovated Hayward Field at the University of Oregon in June is, in itself, a dream come true for Ribich. The athletes who will be competing at the trials are individuals that he's looked up to since he started running in middle school.
"I remember watching (the trials) in 2012 and getting autographs from the guys and feeling really inspired," Ribich said. "2016 I remember going down there, and now this year, kind of a rite of passage, now I actually qualified for it."
While the trials are still several months away, it's at the forefront of Ribich's mind.
"I think about it every time I tie my shoes and every time I go out for a run," he said, chuckling.
"For right now, my coach's and my focus is putting in the training right now and let the trials be the trials when it comes in June. It feels surreal because it's something I've been aiming for for so long."
Over the next several months he will attempt to shave two seconds off his time so he can hit that 3:35 mark. It's no easy feat when you're competing in a field with the type of depth this level of running contains.
If Ribich doesn't hit that time going into the trials, the only ways to get selected onto an Olympian team will be to finish in the top three or to win the race.
"So right now, we're just focused on running that 3:35 because if I settle with the trials time, than the end of the road will be down in Eugene, and that's not really the end result," he said.
The end result he wants is obvious, but rather than be consumed by it, Ribich wants to treat that race in June like every other race he competes in: "To take each heat and each run for itself," he said.
His expectations for himself are high.
"I'll be racing against guys in that 1,500 who I watched in 2012 make the olympic team. So I think it's time for me to hopefully showcase what I'm capable of and put my teeth in the game. I want to be able to be a contender and be respected as a contender. I want to be confident with the fitness and the training that was, really, put in for the past two years at this point. I want to give it my all."
Since signing his contract with Brooks mere days before he attended his college graduation, Ribich has traveled across the world to race; written a book that he self-published on Amazon; helped set an indoor record in New York City in the 4x1,600-meter, with his team clocking an overall 16:03, and presented Enterprise High School, his former alma mater, with new running kits.
A big drive for Ribich in rising to the professional platform was getting the chance to give back to the running community that helped shape who he is. It was a desire he brought up to multiple running companies before he signed on with any of them, and Brooks was the company that seemed to latch onto that desire the most, Ribich said.
"So what we worked out through Brooks was my high school gets a $2,000 scholarship for an athletic senior, and then on top of it, the track and field and cross-country program gets $12,500 MSRP gear for the calendar year, and so for a high school of 118 kids and a track team smaller than that, it goes a long way," Ribich said. "So, it's just really cool to see the company that supports me support the people and the places I'm from."
The book he wrote, "Small School, Big Dreams," was written with the same goal in mind: to give back to the running community by documenting his final year in college in regards to his overall mental state, nutrition, training and his goal of becoming a professional.
At only 24 years old, Ribich has created a life for himself that he only dreamed of as a high schooler while living in a small corner of Oregon, in a town where livestock outnumber humans.
None of that is lost on him.
"In July (2018) … I was in Barcelona and it was my first race overseas and I ran my third fastest 1,500 time ever but in that race I felt like it was slow still — I got destroyed, the professional field just wiped me clean, and I remember being upset and a little angry," he said. "So I remember doing a workout on the track afterwards, and I was working out with guys from the race and all of a sudden we stopped talking and we kind of listened and across the street in one of the stadiums was Beyonce and Jay-Z performing live. And we were just cooling down on the track and the lights go out and we can just hear them singing. And the only light we could see from the track was the skyline of Barcelona and this huge cathedral on a hill, and we're like, 'OK, life is not really as bad as it feels. We had a bad race but we have the skyline of Barcelona, Beyonce and Jay-Z are performing live and we're across the world from where we're from.' And so that was one of the coolest races I experienced, because it put some things into perspective. Like, yes this is my job and this is something I need to take seriously, but I also need to take it with a grain of salt and enjoy the places where I'm at."
With the new year underway and the trials looming closer, Ribich is doing what he can every day to stay healthy and focused.
"In January I'll start racing. I don't know where my first race will be, but I'll focus on the 3,000-meter indoor race and try to get selected for representing the United States at the indoor world championships in March, and if I can do that than that will just hopefully springboard me into the trials."