MONMOUTH — Western Oregon University's Court Hammond, a linebacker for the Wolves football team, has shed his college football jersey for a professional one.
On April 30, while sitting on the couch watching the Canadian Football Draft with his wife and mother-in-law, Hammond received the good news that he was drafted by the BC Lions in the third-round.
It's a dream come true for Hammond, who's been playing football since he was 13.
He said didn't expect to receive the call as soon as he did, figuring he would be drafted in rounds four through eight. He ended up being selected as the 23rd overall pick out of 73.
"I felt relieved to have my name called," Hammond said. "It was surreal to know all that hard work had finally paid off."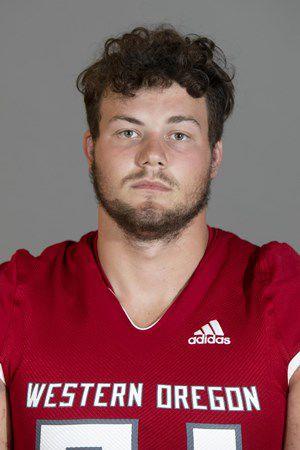 Hammond came to WOU after a successful high school football career at Crescent Valley High School, where he was a four-year letter winner, team captain of the Raiders football team during his senior year, and was a First Team All-Conference for his junior and senior years; additionally he helped lead the team to a Mid-Willamette Conference championship twice.
"Having Court being selected in the CFL is great not only for him, but for Western Oregon University," said WOU's head football coach Arne Ferguson. "This is a testament to all of Court's hard work and dedication to the program. Court is one of the hardest workers on the field and in the weight room. Very happy for him and looking forward to seeing what he can do with the BC Lions."
His junior year with WOU came to a screeching halt when he broke his knee during the fifth game of the season.
"So it unfortunately set me back the rest of the year and all the way up until my senior season had begun," Hammond said. "But even then, I only played about 75 percent of my potential. ... It was rough to get past, but I did what I could for my team and put them before me. I did get to play in 10 out of 11 games for my senior season though."
Working with WOU's director of sports performance Cori Metzgar to get him back into shape in time for his final season with the Wolves, Hammond's senior season included 17 tackles, four solo, along with 2.5 tackles for loss. That came following a 2018 year in which he earned Second-Team All-Great Northwest Athletic Conference honors when he collected 17 tackles, 10 solo, four sacks, five tackles for a loss, a pair of passes defended and a forced fumble.
Now that he's secured a spot with the Lions, Hammond plays the waiting game.
"As of this moment I'm not sure when training camp officially starts," he said. "From the staff I've heard to just stay ready; the earliest the season will start is September for us, just like the NFL. All I can do is stay ready and be in my best physical shape."
He's looking forward to the challenges this level of football will bring.
"I'm excited to learn all the new knowledge and techniques from my new teammates and staff," he said. "I've learned so much over the years and can't wait to grow in that even more. You can always learn something new."
Hammond is off to play on a bigger stage, and he attributes his time at WOU for making that possible.
"I loved the family feeling with my teammates and coaches (at WOU)," he said. "Our fans stayed loyal throughout the years and I was just happy we could finally bring them a GNAC championship," he said. "It meant as much to us as it did to them. The way the college game has impacted me was it humbled me, made me take my time with things more often, and work harder to get to where I am."
Being drafted into the CFL is a dream come true for Hammond, and it's not lost on him.
In light of recent events surrounding the death of George Floyd by a police officer, Hammond said he wants to encourage everyone to come together and create good for one cause.
"2020 has been a rough year for everyone but in these growing times it's important to use your voice and help support the Black Lives Matter movement," Hammond said. "I believe it is a time for a change to help the cause and to understand the matters at hand. I love everyone one of my former teammates and support all of you along the way."