PERRYDALE — Lacking defensive energy, and unable to manufacture enough hits to make up for it, the Perrydale High School Pirates softball team fell 20-9 in a five-inning game to Neah-Kah-Nie on April 17.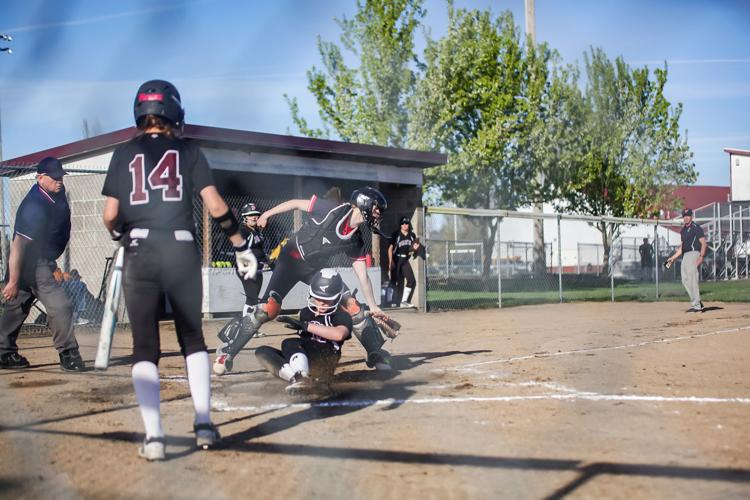 With a roster that contains multiple first-year players, and players who are being put in positions that they've never played before, head coach Chris Gubrud said there are big holes on defense that he is trying to patch up.
"We have a lot of inexperience, and we're really solid in the infield, but we're just so inexperienced in the outfield that, we could make good plays, but we're just not there yet," Gubrud said. "So, we're just going to keep trying to find a combination that we can get some outs. Because we can score runs, we score runs in every game, we just can't get outs."
Senior Sydney Perkins, who's been on the team for four years, is one of those players in a position she has never played before.
"I just started catching a couple weeks ago," she said. "I'm usually pitching or center field. One of our players got hurt, so we had to switch a few players around. I like (catching), I'm just getting used to it."
Opening the game up with two runs, Perrydale (6-6 overall, 4-6 Special District 1) seemed to be in a good position until Neah-Kah-Nie (3-9 overall, 3-5 SD1) fired out five runs in the second stanza to put them ahead on the scoreboard.
Finding a surge of energy, the Pirates picked up seven runs to open the third inning, followed by four runs by Neah-Kah-Nie, knotting the teams 9-9.
The fourth inning saw no runs from either team.
The fifth inning, Neah-Kah-Nie knocked out 11 runs, taking advantage of the Pirates' sleepy outfield.
"We just don't play good enough defense to keep ourselves in the game," Gubrud said. "And we have trouble throwing strikes sometimes. Defense gets lulled to sleep with a lot of deep counts, and then when it gets to us, we don't make plays."
Sophomore Megan Freeborn was three-for-five; she also nabbed a triple, sliced a home run across left field, and picked up four RBIs.
Junior Kenzy Lawrence was two-for-four with two RBIs.
Freshman Courtney Burbank was two-for-four, with two RBIs.
Natalie Juarez was two-for-four.
Tuesday, the Pirates traveled to Gaston after press time.