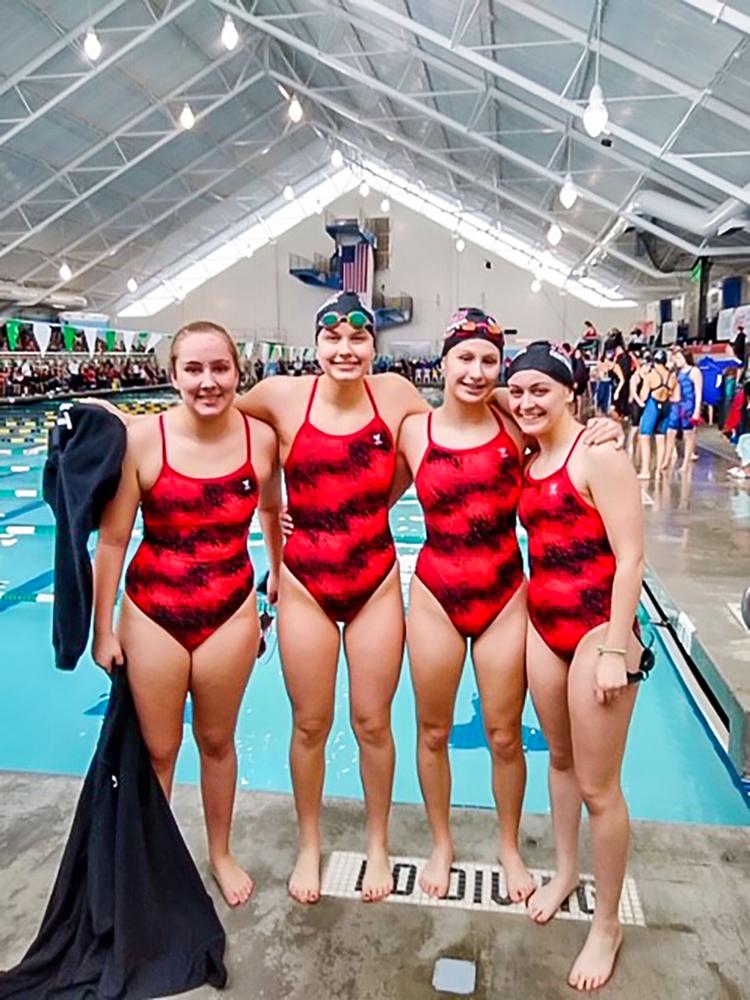 TUALATIN — The day might not have ended up  the way members of the Panthers girls swim team wanted it to, but it still made history.
On Friday, at the OSAA 5A swimming state championships at the Tualatin Hills Aquatic Center, Madeline Altenburg, Olivia Cooper, Grace Holstad and Lynze Bradley competed in the girls 200-yard medley relay, placing 12th and clocking in at 2:07.13.
The quartet's time set a new record for Central High School, and marks the first time Central has ever sent a girls relay to the state tournament.
"We broke the school record so that was awesome," Holstad said.
"I swam almost three seconds faster than I did at districts," Cooper said.
"So our school record was pretty much all because of Olivia," Holstad said, laughing.
At districts on Feb. 8-9, the girls took a gamble and switched which swimmers swam which event, and stayed with that order at state.
"We rearranged the relay at districts for the first time, so (Lynze) had been doing backstroke and (Madeline) had been doing freestyle, and they switched, and that was the first time doing the backstroke, other than at districts, for Madeline."
"I took a second off my time," Altenburg said.
The girls were disappointed they couldn't advance to finals, but said they were proud of making it this far.
"At least we made it to state; that's pretty cool," Lynze said.
"We did not expect it. And I think we will be back next year," Cooper said.
Holstad went on to compete in the 50-yard freestyle and the 100-yard butterfly, where she placed eighth in both events at 26.69 seconds and 1:03.69, respectively.
"My freestyle went how I expected it to, but my butterfly didn't," Holstad said. "I guess I'm proud of myself; I mean our relay did well and my 50-free went well, so that's all I can ask for really. I did my best."
At the state championships last year, during her 100-yard butterfly, Holstad's goggles came off and as a result, she took 12th place at 1:11.53.
"I knew that (this year) wasn't going to be as bad as last year, because of my goggles falling off last year at state, so this year was definitely better, and I knew I wasn't going to let that happen again. But, I mean, I didn't want it to go the way it did. I was seeded seventh, so I only had to beat one person to get sixth, but I ended up getting eighth, so that was hard for me, once I realized that, but I did my best, and that's all my coach asks for, and that's all I ask for of myself."
She may not have been that happy with her performance, but Holstad has been the only individual girl to make it to the state championship in the history of the Panthers girls swim program.
"As she was very close to making it to finals, top six, she has set a standard now for others to follow these last two years that I've been coaching the team," said head coach Jesse Genualdi. "It's been a privilege to coach her these last two seasons and share her success. Go Panthers."