DALLAS — There are a lot of memories Zoe Whitlow will carry with her from her time spent on the Dragons softball team, but there is one memory that sticks out the most: The 2019 semifinals game.
"We were at Hillsboro," Whitlow said, a Dallas High School senior. "And it was — I think we were ahead by like 7-0, or 7-3, and I made the final out, it was a pop-fly to third, and I remember just catching that ball and the crowd just instantly started cheering and screaming; everyone was on the field. (Hillsboro) went undefeated their entire season, so just to be able to shut them out and then punch our ticket for us to go to the state championship was one of those things I'll never forget."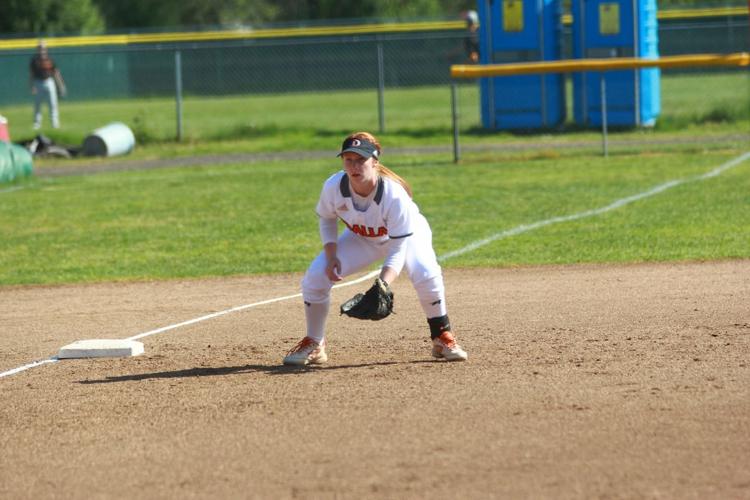 Whitlow, who would have come back this season for her fourth year at third base as a Dragon, has been playing softball for the better part of her life.
"Nine years or so," she said. "Ever since, you know, little T-ball."
The energy that comes out of the dugout during a game is her favorite thing about the sport.
"I love the thrill of the game and how in the dugout, we're always screaming and yelling," she said. "It's just such a fun atmosphere; it's so competitive, but at the same time, you can feel a sense of calm on the field. My favorite part was every time Madelyn (Loughary) or Kaelynn (Simmons) got a strikeout, we were always screaming. All the loudness, you could say, all the cheering was my favorite."
So when she found out that the season was canceled due to the restrictions set up by Gov. Kate Brown in response to the coronavirus, she said she was heartbroken.
"I cried so much. We had big plans for the season, and then hearing that we don't get to continue what we had going from last year really made me heartbroken," she said. "Especially since it's my senior year, and I only have one more chance to play with these coaches and everything — it really made my heart just kind of shatter. The coaches, the girls, it's such a wonderful atmosphere, playing with everyone, and it just makes me sad thinking about it, all the memories that we had together, and all the plans that we had."
There are other events Whitlow will miss because of the pandemic.
"Oh, so many things," Whitlow said. "Prom, the raft trip; senior all-night party. The staff and senior softball game, and basketball game. The sidewalk signing. The senior breakfast. But at the same time," she added, "I get it; I get why they're doing it — it's to protect us."
Her high school softball career ended early, but she'll be out there swinging a bat before too long.
"I'm committed to playing at Chemeketa Community College for two years on a full ride," Whitlow said. "I'm excited. It's going to be really fun."
She plans on studying psychology and then criminal justice.
"I'd like to become a forensic interviewer," she said. "Both my parents are in law enforcement, and so I hear about all these different departments that my parents use, and it just seemed like an interesting field to work in, helping people overcome the bad stuff that's happened to them."
Until she starts college, Whitlow has been baking cookies to pass the time, running errands for her grandparents and is taking a five-week online college class through Chemeketa for some extra credits.
It's going to be different to be part of a new softball team, Whitlow said. "But I think once the ball gets rolling and we start practices and hanging out, I feel like it will be just another team."