MONMOUTH — Another basketball season is underway for the Western Oregon University men's basketball team.
The early season opened on Nov. 9, and Great Northwest Athletic Conference play opened Dec. 5.
"The season is going pretty good," said junior point guard Darius Lubom. "We all have a pretty good idea of what we want to do and where we want to be at the end of the season. We practice pretty hard every day, and we focus on going 1-0 every day, whether that's in the locker room, whether that's during an off day and we have to stretch or if it's in practice, we just focus on getting better."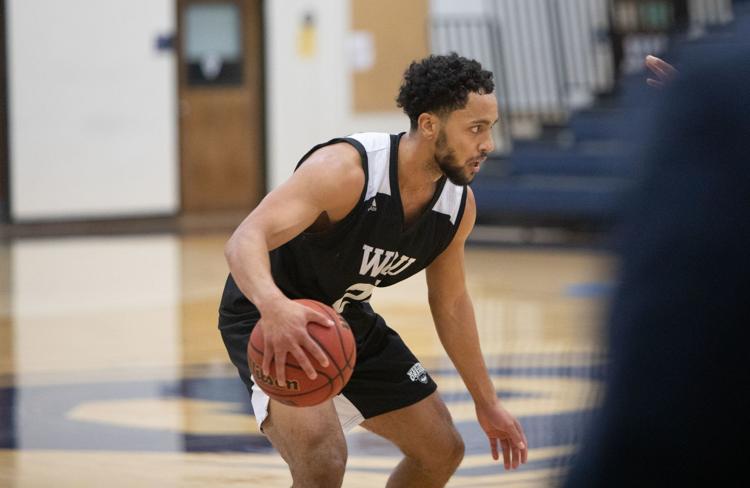 After going 5-0, the Wolves fell at the GNAC opener in Alaska, followed by another loss at Alaska Anchorage.
Matches like that can be tough to swallow, but it can also be a good way to mark where the team is at.
"I think this last week was a challenge, playing up in Alaska was tough," said senior guard Dalven Brushier, "but it provided a little bit of excitement, honestly, because now, how we respond — we go five in a row and you drop a whole row that you don't think you're going to lose — you know, how do you respond? And I think it provides a little bit of challenge and reflection."
How the team responds to tough losses like that can set the tone for how it responds to further adversity, Lubom said.
"I didn't expect to lose this early — or at all — but it happens," said junior Darius Lubom, point guard. "Losing — nobody likes to lose, but it's reality; it happens. That's part of being a good team or not: Are you going to let one loss affect everything else, or are you going to bounce back and act like it didn't even happen?"
As the season progresses and the team gets deeper in GNAC play, making it to the GNAC championships in March is what the Wolves are aiming for — and beyond.
"GNAC is just the first step for us, we want to do things on a national level," Brushier said. "We look forward to our end goal on the national stage, whatever game that is, that's the one we're working for."
Last year, the team made it through to the first round of the National Collegiate Athletics Association West Region, where 64 teams are whittled down; the Wolves fell 70-58 to Point Loma.
Some things are different for the Wolves this year: The team is younger, which means the older players, like Lubom and Brashier, are essential in being the leaders and working to keep the Wolves' basketball culture alive.
There is also a new head coach, Wes Pifer, who was hired in May following the departure of Jim Shaw for Washington State University.
"I think one area that is pretty easy to lead in is vocally and leading by example," Lubom said. "The system is fairly new to us too, so we're learning on the way, but one thing we do know is how hard to work and what it takes to be the best team, and that's what we want."
New leadership has the potential to bring about a period of adjustment — for the players and the coach himself.
"I think (the transition) has been way easier than I was expecting," Lubom said. "He still tries to keep ideas from last year, he tries to go 50-50 with it. He focuses on us a lot, instead of who we're playing. We try every day and we try new ideas every day. We just have to keep working every day at it."
"And understanding it's a process, and not getting too high or too low," Brashier added.
The Wolves host Concordia on Tuesday at home at 2 p.m.